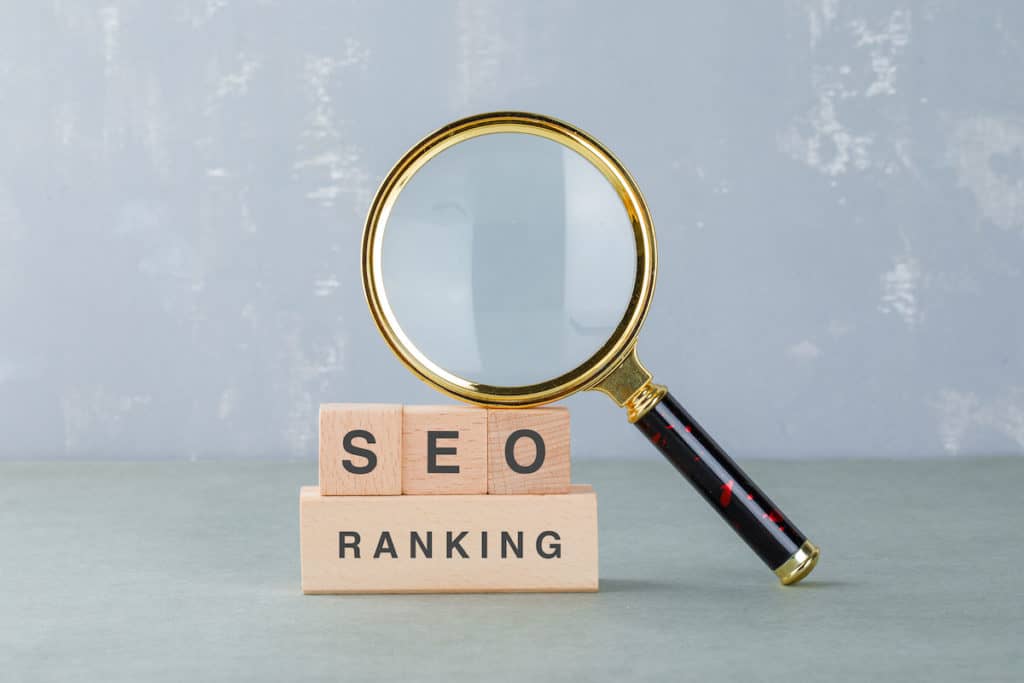 It's safe to say that everyone is familiar with the benefits of being on the first page of Google. Increased traffic, more leads, higher sales potential – and for SMB's – improved brand awareness, to name a few.
As a small business, your main goal is to tell people that your business exists. And one cost-effective way to do it is by squeezing your way into relevant search results and being seen by your target audience.
In this article, we will explore the different benefits of being on the first page of Google, as well as effective methods that can help catapult your website to the top of the search results.
Are you ready to learn how?
Let's start with…
3 key benefits of being on the first page of Google
It brings more traffic to your website.
Each of Google's search results shows 10 websites per page. Said results are based on bounce rates, backlinks, site speed, and content optimisation, to name a few.
Now being on top of the search result is already in itself a huge win for an SMB. But what is more important is the potential for "interaction" between your business and its target audience.
A case in point is the Sistex research data which states: "The average click rate for the first position in Google is 28.5%. Beyond position 1 the percentage falls quickly: In the second position, the average click rate is 15.7%, and in the third position, 11%".
This means that the higher your business appears on a search result, the better the chances of having users visit your site and "discover" what you have to offer. The best scenario is to be in the top 3 positions of a search result; as that's where 50% of the users would click when searching.
We used the word "discover" because let's face it; one of the biggest issues SMB's have is letting people know that your business exists.
On a side note: if you want to understand better how to rank high on Google's search results, or how to outrank your competitors for keywords related to your products or services, go read our article "How To Outrank Your Competitor In Google | Local SEO Singapore Tips & Tricks".
It increases brand awareness.
Ask yourself this, would you purchase a product online from a random company? Chances are you won't.
You cannot ask a person to go and purchase a product from a business that he/she knows nothing about – thus highlighting the importance of brand awareness.
Brand Awareness is the result of making consumers recall, recognize, and differentiate your business from its competitors – and can be leveraged to improve the authority of your brand, get more traffic to your website – potentially increasing the possibility of conversion.
As for the long term benefits of increased brand awareness, it revolves around building trust and authority.
The more people become familiar with your business, the chances of a sale increase. And if your products and services can follow through on whatever promise it made, consumer trust improves, thus cementing your business as an authority within its industry.
And we believe we're on the same boat when we say that consumer trust always leads to increased revenues.
It's cost-effective
Yes, a good SEO campaign may require you to employ the services of a reputable agency.
But if you look at the revenue potential of being on top of an industry-related search term, it far outweighs any traditional offline marketing effort like printing and distributing brochures. We can't even recall the last one we received from the letterbox today; it went straight to the recycle bin.
And if you do hire a competent SEO team, you are assured of staying on top of the search results – further cementing your foothold on the other two benefits we talked about just a while back. Unlike printed brochures, the content you put online is far likelier to be found as and when a potential client is looking for it.
In fact, if you are adventurous, you could dabble in producing search engine optimised content yourself using some free SEO tools. Your only real investment is time.
How to get to the first page of Google search result?
Of course, the answer is to run a strategic and effective SEO campaign – one that targets search terms that are highly relevant to the products and/or services you provide.
There are a couple of ways to do SEO, through, "Organic" and "PPC.
PPC (Pay Per Click)
This is a paid SEO method that "shows" your website as an "advertisement" on the top part of a search result page for a keyword of your own choosing.
How it works is that you pick a keyword and "bid" on it. If you win the bid, then your link will appear on the search result for said keyword. And each time a user clicks on your link, you pay whatever the winning amount was for the keyword.
Though this is a faster way of appearing on the search results, your visibility is completely dependent on your ability to sustain funding for the campaign.
If you run out of funds, or if someone else outbids you, then your link is withdrawn from the search result.
Another problem you might encounter with PPC is when you start to engage in a bidding war with other companies.
This typically happens when the target keyword is used by a lot of users – thus forcing other websites to bid on it as well. And since Google only shows three PPC ads per search result, ad space for high search volume keywords can become a bit pricey.
For example: If we wanted to do a PPC campaign targeting the keyword "SEO Singapore" with a starting bid of SGD 1, another company could increase that bid to SGD 2. If both of us are desperate to land the winning bid, the price could easily increase several folds from its original value.
Now if you have enough funds to do a PPC campaign, then, by all means, do so. But if you are after a more cost-effective method – which also provides more stable results, then you might want to go with…
Organic SEO
This is the SEO strategy of implementing SEO processes based on "best practices" suggested by Google.
Some of the components of an effective organic SEO campaign are:
Keyword research – This is the process of determining what keyword you should target for your website to rank high on its search result.
For you to reap the benefits of being on the first page of Google for the keyword, it should be highly relevant to your industry, or for the product and service, you offer.
Keyword research is the foundation of every SEO campaign, as the target keywords you gathered will be used on your content – which is what Google uses to determine how well you rank on the search results.
Optimized content creation – As mentioned just a while ago, keywords play a huge part in organic SEO – as they are the ones that explain to Google what your content is about, and what search result it should appear on.
A well-optimized content though is not just about keywords, and it also needs to have quality links, is of the right length, as well as contain information that users will find valuable.
Link building – Think of links as recommendations from other websites. The more recommendations your website (or content) has, the higher its "domain authority" becomes in the eyes of Google.
Domain authority is one of the factors Google uses to determine if a website is valuable enough to appear on a search result.
With that said, you need to make sure that the links pointing to your site are coming from websites with high domain authority as well.
Website aesthetics & load speed – No, Google does not have a standard when it comes to how a website should look – but it is pretty strict when it comes to ensuring that a website can provide users with a positive browsing experience. However, Google would take an issue if your website design causes it not to be able to read the content on your webpage; some website aesthetic techniques are notorious for this.
Aesthetics pertain to ease of use, while load speed is about a positive user experience.
SEO personality Niel Patel said that 47% of users prefer websites that load within 2 seconds or less, and 40% of them abandon a website that took longer than 3 seconds to load fully. Google has confirmed web page load speed as one of the ranking factors for websites.
Mobile-first design – Almost everyone carries a mobile device these days; and with it the convenience of browsing the internet from anywhere. It only follows that your website is mobile-friendly; only loading what's necessary while stripping away unnecessary aesthetics that'll take up load time when browsing from mobile network data.
Having a mobile-friendly website helps with user experience, which again is a search engine optimization factor, improving your chances of landing high on the top of Google search engine results.
Other FREE ways of getting on the first page of Google
Get picked as "Featured Snippet."
"Featured Snippets" are a type of search result link that appears right after a PPC ad and contains information related to the target search term of the result.
Its main purpose is to provide users with a much faster way of discovering factual answers to their queries.
The beauty of being picked as a featured snippet is that you don't have to pay for anything, and it is more likely that your link will get clicked more than the top search result.
How to improve your chances of getting picked
Create content that is optimized, highly informative and provides factual answers to users.
When creating content, focus on questions about the target keyword that answers "how does, how to, and what is".
Write high quality and engaging content that provides users with value – the type that would make them go "aha!".
Try to provide the best answer – and if possible one that everyone can easily understand.
Create Q&A pages on your site that complies with FAQ schemas (you'd probably need to engage a web developer to assist if it sounds too foreign).
Use "Google My Business"
Your Business Profile is Google's term for your Google business listing. Business Profiles appear in Google Maps and in a great way to get some local SEO boost as well.
"Google My Business" is Google's method of verifying and listing your business profile in its database.
Not to be confused with business tags on Google Maps, Google My Business allows you to manage, customize and tweak your "business profile" on Google.
To claim your Google My Business page, all you need to do is submit factual information related to your business like business name, address, phone number, etc.
The beauty of Google My Business is that it can be optimized just like you would a standard website. This means that you need to use targeted keywords in its description.
You can also try to ask customers to leave you a review as it can help boost your reputation, as well as improve your chances of appearing in Google Map results.
Anyway, that's it for this article? Was it able to explain to you the benefits of being on the first page of Google?
If you have further questions about the topic, have a few general SEO questions that you need answers to, or just tired of being stuck on the second page of Google, feel free to send us an email as we enjoy helping people understand how search engine optimisation works.