Google Workspace is a collaborative, cloud-based productivity suite for businesses, organisations, and teams. The suite includes tools that make it easier for modern work processes.
Opting to use Google Workspace proves to be a comprehensive and idyllic solution for anyone looking for great value for money. Additionally, having all the necessary tools on one platform enables users to collaborate seamlessly and communicate without the risk of missed updates.
Here, we'll go through the finer details of what Google Workspace is, the plans available, and the suite's potential to create a seamless user working environment.
Let's get started!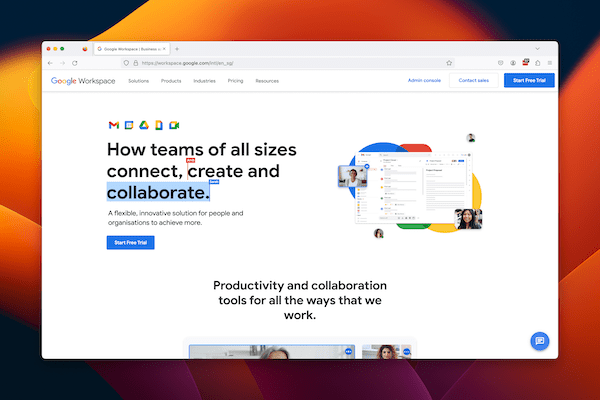 What Exactly Does Google Workspace Offer?
Google Workspace offers a handful of useful tools that users can use to their advantage. The applications can incorporate business and personal needs, making it easy to organise day-to-day activities. Let's explore the features and benefits of Google Workspace in detail.
Google Workspace includes a suite of online applications designed to enhance collaboration and communication within an organisation. These Google Apps include:
Google Mail (Gmail): The email service provided by Google. It allows users to send and receive emails using their custom domain name, email@mybusiness.com.
Google Meet – video conferencing app for business meetings. (like Zoom and Microsoft Team)
Google Docs: A cloud-based word processing program (like Microsoft Word).
Google Slides: A cloud-based presentation program (like Microsoft PowerPoint)
Google Sheets: A cloud-based spreadsheet application (like Microsoft Excel).
Google Sites: A simple web page creation tool.
Google Drive: Google Drive is a cloud storage and file synchronisation service created by Google. It allows users to store files in the cloud and share or edit documents, spreadsheets, and presentations with collaborators.
Google Calendar: Allows users to manage appointments, tasks, etc.
Google Contacts: Allows users to manage contacts and sync on your phone.
Some of these Google apps offer organisations enhanced capabilities compared to their free counterparts. For example, with Google Meet, businesses can host larger meetings with up to 250 participants while also taking advantage of features such as live captioning and chat moderation.
With Google Drive, teams have Shared Drive capabilities to share files from a common shared drive; rather than from the respective individual's Google Drive storage. Furthermore, admins can set policies on how members can use those services within their environment.
Overall, these applications provide organisations with advanced functionalities that allow them to collaborate internally and externally efficiently. From creating dynamic websites with Sites to hosting virtual events on Meet – the Google apps included in Google Workspace help companies maximise efficiency while staying connected across any distance or device.
These features, tools, and capabilities work towards ensuring that modern workspaces have access to efficient collaboration tools, secure data storage, intuitive communication platforms, and more.
Google Workspace is a comprehensive suite of cloud-based applications that makes working more innovative and more straightforward than ever. From file-sharing capabilities to unified communications systems, Google Workspace makes collaboration easy while keeping data safe across multiple devices.
With its powerful features and user-friendly interface, Google Workspace is quickly becoming the go-to solution for businesses worldwide seeking to maximise productivity with minimal effort.
What Devices Can You Use Google Workspace On?
Users can access Google Workspace from anywhere and on any device. From laptops to mobile phones, you'll have access to the same suite of Google Apps that make up G Suite – the core components of Google Workspace. So using Google Workspace is like having a digital office in your pocket.
Aside from business use, Google Workspace plans also work well for education and personal use. Whether at home or in school, learning with Google Workspace gives students access to tools that help them collaborate more effectively.
Everyone can work together on projects using Google Docs, Sheets and Google Slides without ever needing to email attachments back and forth; all documents are stored securely in Drive storage so everyone can access the latest versions. There's even an Education Edition specifically tailored for schools with additional features such as Classroom integration.
No matter your needs, whether it's a collaboration between colleagues or remote teaching activities, a plan is available that fits those requirements perfectly – making it easy to get started.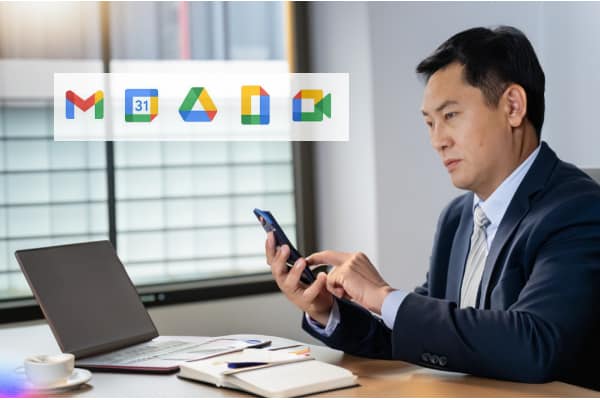 What Is The Difference Between Free Google Account (Gmail) And Google Workspace?
Compared to a free Gmail account, the paid version of Google Workspace offers using Gmail email address with a custom domain name, additional storage capacity for documents in Drive and mailbox, custom branding options, advanced administrator control settings such as email retention policies and API integrations; 24/7 support via phone or email; and more collaboration features like video conferencing over Google Chat.
With these enhanced capabilities available through Google Workspace, organisations are better equipped to create efficient teams that can collaborate securely anywhere and look more professional with a custom domain email address.
Let's explore the finer details of Google Workspace paid plans:
Subscribe Directly With Google Or Through Google Partners
There are several benefits to subscribing to Google Workspace through a Google partner instead of signing up directly with Google:
Personalised Support: When you sign up for Google Workspace through a Google partner, you'll have access to personalised support from a team of experts. These experts can help you set up your account, migrate your data, and troubleshoot any issues.
Additional Services: Google partners can offer additional services unavailable through Google, such as custom email migration, training, and integration with other software tools.
Cost Savings: Google partners can offer cost savings through discounts on Google Workspace subscriptions, which can help you save money on your monthly subscription fees.
Simplified Billing: Google partners can provide consolidated billing for all of your Google Workspace services, making it easier to manage your subscriptions and track your expenses.
Localised Expertise: Google partners often have localised expertise and can provide support in your time zone and language. Localised expertise can be especially helpful for businesses with employees or customers in multiple regions.
Working with a Google partner can provide small businesses with additional resources and support to help them make the most of your Google Workspace subscription.
xSquare is a certified Google partner. We have a wealth of experience in using, setting up, and optimising Google Workspace, so we can help you get the most out of your experience.
G Suite Legacy Free Edition
Google Workspace was formerly known as G Suite when it first launched in 2006. It was free to use for a good number of years for businesses throughout the world. However, in 2012, Google announced that the G Suite would move to a paid model (later known as Google Workspace), and the free edition would no longer be available to new users.
The existing free G Suite plan would be called G suite legacy free edition, and the plan would continue to be available for active users. Then, in 2022, Google decided to sunset the G Suite legacy free edition. Instead, all existing users had to move to the Google Workspace paid plans.
As an olive branch, users of G Suite legacy free edition are offered 50% off a one-year subscription when they move to the paid plan.
Google Workspace Subscription Plans For Business, Education, Non-Profit And Individuals
Google Workspace offers several subscription plans for its different users. Each plan comes with varying storage and tools to fit the needs of a specific type of business, making it easy for them to incorporate all necessary information, files, and communication in one location.
Google Workspace for Business: This plan offers three subscription plans: Business Starter, Business Standard, and Business Plus. The plans differ regarding the storage limit, maximum number of users, and additional features.
Google Workspace for Education: This plan offers two subscription plans: Education Fundamentals and Education Plus. The plans differ regarding the additional features and management tools for educational institutions.
Google Workspace for Non-Profit: This plan offers a free subscription plan for eligible non-profit organisations.
Google Workspace for Individuals: This plan offers a single subscription plan that is affordable and includes all the necessary productivity tools for personal use.
In summary, Google Workspace offers different subscription plans for various needs, each with unique features and pricing options. The subscription plans are tailored to meet the needs of different users, whether small business owners, educational institutions, non-profit organisations, or individuals.
Google Workspace For Business Versus Google Workspace for Individuals
Google Workspace for Individuals caters for only a single user, while Google Workspace for Business caters for teams. In other words, Google Workspace for Individuals is for solo entrepreneurs or individuals who wish to have additional functionality and security over the free Gmail.
Google Workspace for Business provides access to powerful tools and enterprise-grade security. For businesses, features such as attendance tracking, integration with third-party apps and an integrated experience enable them to collaborate in real-time.
Individuals will have access to Google's suite of applications without the same level of administrative control or security measures that come standard with a business plan.
Google Workspace Subscription Plans For Business
Google Workspace offers three main plans: Business Starter, Business Standard, and Business Plus. All plans include core productivity tools like Gmail, Drive, Docs, Sheets, Slides, Meet, Calendar, administrative controls, and security features.
The Business Starter plan is the most affordable. It includes 30GB of storage per user, 24/7 customer support, and real-time collaboration on documents. The Business Standard plan offers additional features such as 2TB of storage per user (or 1TB if less than five users), advanced admin controls, and the ability to archive and set retention policies for emails and chats.
The Business Plus plan provides even more advanced features like security and compliance controls, data loss prevention, and enterprise-grade support. Here's a table comparing the key features of the different subscription plans in Singapore:
| Feature | Business Starter | Business Standard | Business Plus |
| --- | --- | --- | --- |
| Price (Flexible, monthly pricing) | SGD 9.60 user/month | SGD 19.20 /user/month | SGD 28.80 /user/month |
| Price (Annual commitment pricing) | SGD 8 user/month | SGD 16 /user/month | SGD 24 user/month |
| Storage | 30GB /user | 2TB /user (or 1TB if <5 users) | 5TB /user (or unlimited if >= 5 users) |
| Advanced Admin Controls | No | Yes | Yes |
| Data Loss Prevention | No | No | Yes |
| Compliance Controls | No | No | Yes |
| Security Center | No | No | Yes |
| Enterprise-grade support | No | No | Yes |
| Retention Policies for Emails and Chats | No | No | Yes |
| Third-Party Integrations | No | No | Limited Yes |
Google Workspace Business Plan (accurate as of March 2023)
Overall, businesses in Singapore can choose a plan that suits their budget and requirements. The Business Starter plan is ideal for small businesses with basic needs. In contrast, the Business Standard plan offers additional features for medium-sized companies. Finally, the Business Plus plan is designed for larger businesses with advanced security and compliance needs.
Monthly Or Annual Google Workspace Commitment?
Deciding whether to commit to an annual or monthly subscription plan for Google Workspace depends on several factors, including your budget, cash flow, and long-term business goals.
An annual plan typically offers a lower cost per user than a monthly one, making it more cost-effective in the long run.
Additionally, committing to an annual plan can help with budgeting and cash flow planning by providing a fixed cost for the year. This can be particularly useful for small businesses with limited financial resources.
On the other hand, a monthly plan can offer more flexibility for businesses that may need to adjust their user count or features as their needs change. Monthly plans can also be a good option for businesses that prefer to pay for services monthly rather than committing to a longer-term contract.
An annual plan is the best option if you have a clear idea of your business needs and budget and don't anticipate significant changes in your user count or features.
However, if you prefer more flexibility and the ability to make changes monthly, a monthly plan may be more suitable. Ultimately, it's essential to carefully evaluate your options and choose the plan that best meets your business needs and budget.
Comparison With Microsoft 365
As a small business owner, it's essential to consider the benefits of Google Workspace over Microsoft 365. One of the most significant advantages of Google Workspace is its emphasis on collaboration and real-time document editing. With Google Docs, Sheets, and Slides, your team can work on the same document simultaneously, making it easier to get work done quickly and efficiently.
In contrast, Microsoft 365's collaboration features are not as streamlined, and users may need to manually save and refresh their documents to see changes made by others.
Another advantage of Google Workspace is its integration with other Google tools such as Google Drive, Google Calendar, and Google Meet.
This makes it easy for your team to manage their schedules, store and share files, and conduct video conferences all in one place. However, while Microsoft 365 does offer similar tools, they are not as seamlessly integrated as Google Workspace.
In addition, Google Workspace provides a more cost-effective option for small businesses with its pricing plans, which start at USD 8 per user per month. Microsoft 365's pricing plans start at USD 6 per user per month, but they may require additional fees for features such as desktop versions of the Office apps.
Google Workspace's emphasis on better collaboration, seamless integration with other Google tools, more integrations with third-party apps, and cost-effectiveness make it a compelling choice for small businesses.
On the other hand, Microsoft's desktop Office apps have more advanced features and functionality than the online office suites (both the Google Workspace and Microsoft 365 web versions).
| Feature | Google Workspace Business Starter | Microsoft 365 Business Basic | Microsoft 365 Business Standard |
| --- | --- | --- | --- |
| Email | Gmail | Exchange Online | Exchange Online |
| Office Suite | Google Docs, Sheets, Slides | Web versions of Word, Excel, PowerPoint, and OneNote | Desktop and web versions of Word, Excel, PowerPoint, and OneNote |
| Cloud Storage | 30 GB per user | 1 TB for the organization | 1 TB for the organization |
| Video Conferencing | Google Meet | Microsoft Teams | Microsoft Teams |
| Collaboration Tools | Yes | Yes | Yes |
| Mobile Apps | Yes | Yes | Yes |
| Price per User per Month | USD 8 | USD 6 | USD 12.50 |
Google Workspace and Microsoft 365 comparison
Frequently Asked Questions About Google Workspace
Understanding the advantages, use cases, and comparisons of Google Workspace makes it easier for users to decide on the best subscription plan to purchase based on need and functionality. In addition, not all plans come with the same capabilities (i.e. storage space and allowable meeting participants), so having a clear answer to frequently asked questions streamlines the decision-making process.
How Google Workspace Can Help Small Businesses
Google Workspace provides small businesses with web-based services, custom domains and storage space. This suite of cloud-based applications enables users to create documents, spreadsheets and presentations quickly and easily. It also offers enhanced security for data protection and collaboration.
The Google Workspace Business Starter package is designed specifically for small businesses that need a basic solution to manage their day-to-day operations. The starter plan includes business email accounts using a customised domain name, 30GB of shared storage across Gmail and Drive, and access to Google Calendar and Google Meet video conferencing tools.
The Business Starter Plan also includes access to new features such as advanced document-sharing options, secure messaging capabilities, and AI-enabled searchable databases.
This service allows small business owners to work from anywhere while having all the resources they need at their fingertips – providing an affordable way to increase productivity without sacrificing quality or convenience. With its comprehensive suite of integrated apps and reliable support team available 24/7, Google Workspace combines the essential tools for success in one convenient platform.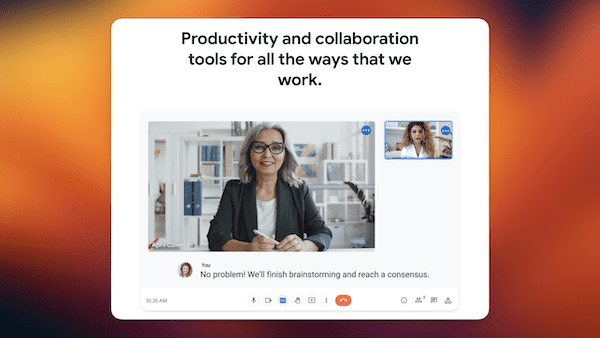 Is Google Workspace Always Available?
Google Workspace's service level agreement is 99.9%. In other words, Google warrants that its service is available for 364.635 days a year. Suppose there should be incidents that cause service downtime. In that case, Google compensates subscribers with additional free usage days according to the monthly uptime percentage table, as shown below:
| Monthly Uptime Percentage | Days of Service Added (for offline billing customers) or Monetary Credit (for online billing customers) |
| --- | --- |
| < 99.9% – >= 99.0% | 3 |
| < 99.0% – >= 95.0% | 7 |
| < 95.0% | 15 |
Google's Workspace Service Level Assurance (accurate as of March 2023)
How Secure is Google Workspace?
Google Workspace is a highly secure cloud-based productivity suite that complies with various security and privacy standards, including those in Singapore. The platform applies multiple security measures, two-step verification, encryption, and anti-phishing and anti-malware protections. These measures ensure the protection of user data and prevent unauthorised access.
Google Workspace also complies with various security and privacy standards, including Singapore's Personal Data Protection Act (PDPA). The PDPA requires organisations to obtain consent from individuals before collecting, using, or disclosing their personal data. As a result,
Google has put strict data protection policies in place, and user data remains private from third-party apps without explicit consent.
In addition, Google Workspace also complies with other security standards in Singapore, such as the Multi-Tier Cloud Security (MTCS) standard, a cloud security certification framework issued by the Infocomm Media Development Authority (IMDA). As a result, Google holds an award as an MTCS Level 3 certification, the highest security certification under this framework.
Overall, Google Workspace is a highly secure platform compliant with various security and privacy standards, including those in Singapore. Business owners can trust that their data and information are safe and secure on the platform and that Google is committed to protecting user data and privacy in compliance with laws and regulations.
Can I Upgrade/Downgrade Between The Editions?
The short answer is yes. Google Workspace editions have a design that meets the needs of businesses and educational institutions. In addition, almost all the features come included with every edition, such as Gmail, Google Drive, Google Docs, Google Sheets, Google Meet, Google Calendar, Google Sites and more.
In most cases, only the limits like cloud storage space and limitations on certain features like the number of Google Meet attendees, file sharing limitations, etc. Businesses can upgrade their Google Workspace plan at any time on a pro-rata rate, monthly or annually.
However, to downgrade, you can only do so at the end of your subscription period.
Do note that Google does not cater for mix subscription plans. So, you can't have some users with Business Starter and others with Business Standard plan within the organisation's Google Workspace subscription.
Where Can I Learn More?
Google Workspace is a comprehensive suite of productivity tools that can help you to collaborate better and get more done. Several resources are available online for those who want to learn more about Google Workspace and its capabilities.
The Google Workspace Help Center offers extensive documentation on setting up accounts and managing users and detailed instructions for using all of the product's features. Additionally, our YouTube channel provides tutorial videos that show step-by-step guidance for specific tasks related to getting started with Google Workspace.
For more information and support from real people who know their stuff, check out our discussion forum, where experienced members will be eager to answer any questions about getting set up or troubleshooting issues.
You'll also find blog posts full of helpful tips and news about new features being added to Google Workspace regularly. With all these great options for learning about Google Workspace, you'll become an expert soon!
If you engage a Google Partner, they can provide faster technical assistance and advice.
Conclusion
Google Workspace is an ideal solution for small businesses looking to enhance their productivity, collaboration and communication capabilities. By providing services such as Gmail, Calendar, Drive and Docs at a reasonable cost with the ability to upgrade or downgrade between editions of Google's offerings, it offers tremendous value for its users.
The features offered by Google Workspace are not just limited to those mentioned above. It also provides tools that enable businesses to collaborate more effectively through video conferencing, chat messaging and shared documents while keeping data secure across devices.
Additionally, subscribing directly from Google or through one of their trusted partners has no difference in service quality or pricing. So whether you're a start-up or an established business looking for a reliable way to boost efficiency and streamline operations, Google Workspace can be your go-to toolbox.
With powerful features designed specifically for small businesses coupled with affordability and ease of use at its core, it is hard to go wrong when choosing this suite of products.
Should you be interested in Google Workspace, don't hesitate to get in touch with us to arrange setup for your organisation.